Hundreds of self-propelled vehicles, guns, mortars etc. are standing here behind the fence under the voltage of 6000V. Small arms of different epochs and states are kept here as well. They say that all those weapons stored in this place can equip an army of a small country! All this stuff is located in Gomel, Belarus, on the closed territory.
This military unit was formed in July 12th, 1941.
"For our Soviet motherhood!"
The tasks of the base are repair, storage and maintenance of the military equipment, its issuance to missile-artillery troops.
At the office of the unit commander.
Only rocket artillery is absent in the unit.
Civil specialists work here too.
"Stop or you can be shot! No entry!"
At the checkpoint.
Everyone is checked irrespective of a position or a rank.
Some of them were removed from service, other are about to be repaired or have just been maintained.
It's hard to say where this equipment was used, maybe in Afghanistan, who knows…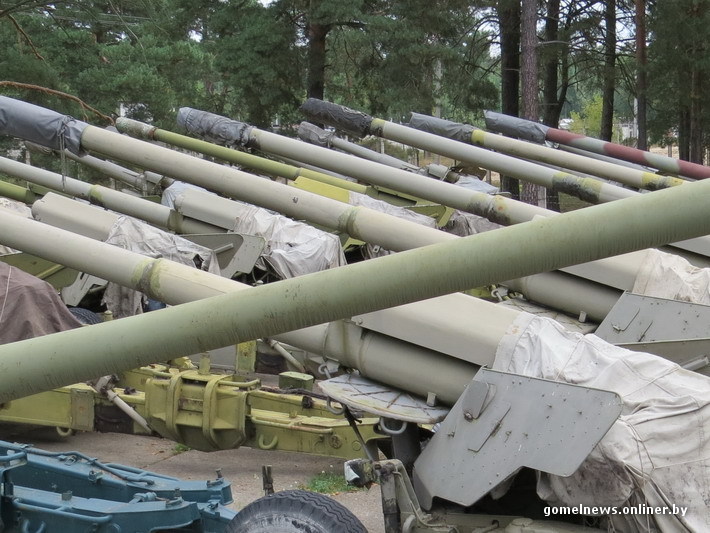 "Pions" 2S7 – the heritage of the USSR. In Belarus these vehicles can be seen only in military depots, troops of the country do not use them.
More and more equipment is arriving, they have to clear more area for their storage.
Some armoured vehicles are waiting for recycling.
Eyelets used for fastening of a parachute system.
Do you see "Vasilyok" 82 mm automatic mortars.
Heavily greased 120 mm mortar 2B11.
It is hard to believe but this one survived the war. Most of the mechanisms are still functioning.
There is much auxiliary equipment here as well. Most of it is used for maintenance of bigger vehicles.
Repair shop.
At the moment there are several "Acacias", "Gvozdikas", armoured recconnaisance vehicles with dismantled missile launchers.
Optics of the missile launchers is adjusted here too.
It is prohibited to enter the zone where small arms are stored.
"Stop! High voltage 6000V".
Local cats can read such warnings!
Some of small arms were taken out for demostration.
German and American ones…
This Romanian submachine gun was captured .. in Japan.. It is still like new. In the hands of this guy it looks like a toy.
SMG Shpagin.
Some of them are of the pre-revolutionary times.
These VIS.35 guns were used by Polish officers, tankmen, cavalrymen starting from 1935. Germans used them too during the occupation.
Automatic pistols.
Do you see the symbol of the Third Reich?
It resembles being in a military museum but hardly any museum can boast of such variety of weapons.
Modern weapons are maintained by civil specialists as well as optics of sniper rifles and other weapons.
Not so many weapons of the world are more beautiful and better than PK machine guns!
Protection of all the stuff is a hard and very important task.
Sentry unit.
Loading and unloading weapons.
They do not remember incidents when the sentry system became ineffective. At the disposal of the guards are watch towers, projectors, loudspeakers, trenches, radio sets, wired phones and carabines, of course.
Location: Gomel, Belarus
via onliner.by